In the weeks I have been volunteering my time with the ill and with hospice I have come to realize the true reason for my being at the center always makes itself known. Yesterday it was Dorothy, a tender 83-year-old woman who had just received some disturbing news.
As it was, yesterday I was feeling a little behind in my workload and thought maybe this week I will pass. When the time to go came near I could hear my spirit say "time to go!" and I could feel the response of my Will supporting that. My total being agreed and in that moment it was an effortless movement to leave my work and make my way to the Convenant Center.

I always walk the halls slow and ask the patients if they want to hear a song before I enter anyone's room. Yesterday a nurse came up to me and said, "I know someone who needs some cheering up will you go there?" I said, "Yes of course what room?" That is when I met Dorothy. I asked if she would like a song and she said yes. I asked how she was and she said "not so good." I asked if she wanted to talk and she shook her head no saying, "it won't change anything" and cried a little.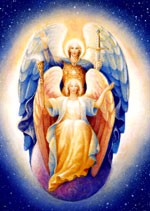 I began to play a song I wrote called "Angel" in hopes of soothing her worries. A little smile came to her face. When I finished she poured out her story. I sat on the floor with my hand on her knee and listened. The outside world with my "things to do" faded and all that mattered was this time here and now with this sweet old woman. I discovered her deep need and desire to go home. I felt an inspiration to share the idea of miracles and hope and sang her a song called, "Take Me Home".
I would like to mention that just before I left home I was inspired to refresh my memory of titles from my songbook. "Take Me Home" leaped from the title list.  I mention this because it is all a part of how we are inspired and guided in all things large and small when we are open.  Now here I was sitting on the floor singing Dorothy this song.

Life can be challenging and chaotic but there is something about giving or being of service for the sake of it that brings a deeper sense of connectivity to life. We are all in this together, young and old, friends and strangers. The time has come to love the self enough so we find our self connected to the endless flow of love springing forth from Mother/Father/God. We don't need to wait until our cup overflows, we can begin today. To give for the sake of giving is Divine. It can be as simple as a smile to a cashier or a phone call to your mother. It is in the simple acts of giving and caring that we find ourselves gravitating to the natural flow of love as it was intended.

Dorothy thanked me and was surprised when I thanked her for sharing. She bravely shared her deepest feelings with me and it was truly an honor. Before yesterday I didn't know Dorothy existed but today I know she does and I hold her in my heart. God bless you Dorothy and may miracles find you open and willing to receive them.